Posted: 04.18.2014
Filed under:
Buzz
| Tags: buzz, news, paint, tiles, windows, wine
Leave a comment
Penny tiles, composting-straw walls, wine storage for the rest of us, long-lasting cement, and other product news from around the web this week.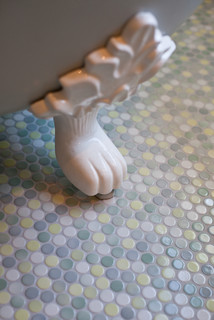 • Lucky indeed. These 15 projects showcase the beauty and diversity of penny-round tiles.
• You've heard of straw bale houses, but what about straw houses that also eliminate the need for a furnace? Students in Japan have developed a prototype house with straw walls that compost to heat and cool the space.
• Never repaint again? Harvard is working on "structural color" technology, which never fades.
• Let's face it: Most of us can't afford the wine cellar of our dreams. Here's some advice and ideas for vino storage for the other 99%.
• Frank Lloyd Wright's grandson is setting his sights on mainstream shipping container houses that are practical and beautiful.
• Breaking up may get a little harder to do: A graduate student has invented a cement composite with a service life of 120 years or more.
• New window regulations are coming. Here's what to expect.
• The energy gurus are weighing in: Will open-cell spray foam really rot the roof?
Image: Traditional Bathroom by San Francisco Interior Designers & Decorators Kelly Scanlon Interior Design
---